Workshop
No fixed levels, no fixed tracks


Choose how many classes you want to attend: 4 or 8 classes over the weekend


Decide what you want to work on and mix and match classes as you please

Choose topics you want to work on


The description gives you an idea of the material in the class


You can build up the material over the weekend by attending several classes on the same topic (progressing from class to class)
Your Teachers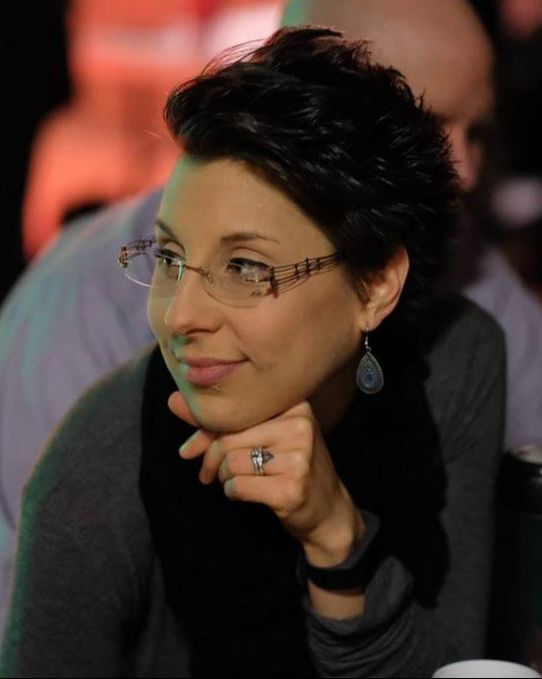 Krystal loves living in Huntsville, Alabama, although she is originally from southern Ohio. She has an uncanny energy and enthusiasm for blues music and dancing, and can often be seen at events all over the southeast and the US, closing down late nights, frequently dancing until dawn. She's been partner dancing various styles since 2007; Blues stole her heart, however, in 2010, and has never let go. She has taught all over the US, ranging from small community -focused events all the way up to national events such as Blues Geek and the Blues Experiment. She's a fierce competitor, frequently making finals at national blues dance contests, and brings her fervor for connection into all of her dancing and instruction. Her love of the dance is contagious, and she believes in injecting fun into all of her classes.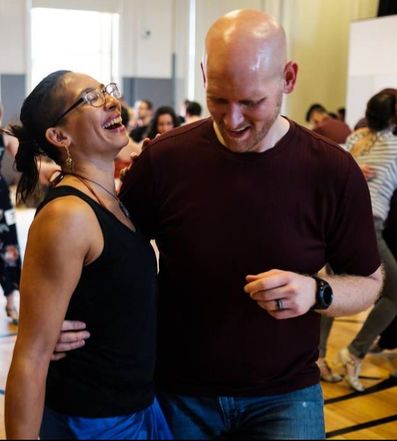 Adam is proud to call Huntsville, Alabama home, but he's originally from Mississippi. He's been partner dancing since 2004, starting in Ballroom, Latin street dances, and Lindy Hop, but he followed Krystal into blues in 2010, and it's been his primary focus ever since. He's passionate about social dancing and blues music, and loves to explore all different blues styles in his instruction and setlists. He strongly believes in teaching the context and history of the music and the dance, focusing on research in his spare time. His analytical approach to connection and value for intuition in dance provides a unique classroom environment that promotes self-awareness and improvement beyond the classroom. He believes in learning through experience and experimentation, so expect a LOT of getting up and dancing in his classes. ​
Catherine Palmier assists individuals to unleash one's own authentic movement offering guided explorations to refine one's dance using grounded organic movement , effortless power and fluid grace. With over 10 years of professional dance experience, academic training, and knowledge of multiple styles of dance, Catherine skillfully and with a keen movement sensibility helps dancers discover the origin and understanding of their own personal movement. She draws from performance concepts, emotions, visualizations, memories, body mechanics, sensations and alignment to support a constantly flourishing understanding of dance for her students. Catherine hopes her students receive insight, playfulness and enthusiasm from her work enabling them to develop their own signature style within their dance. Because of Catherine's ability to interpret various dance styles coupled with her proficiency in revealing the unlimited nature of African dance, this makes her appealing to dancers of any genre or experience level.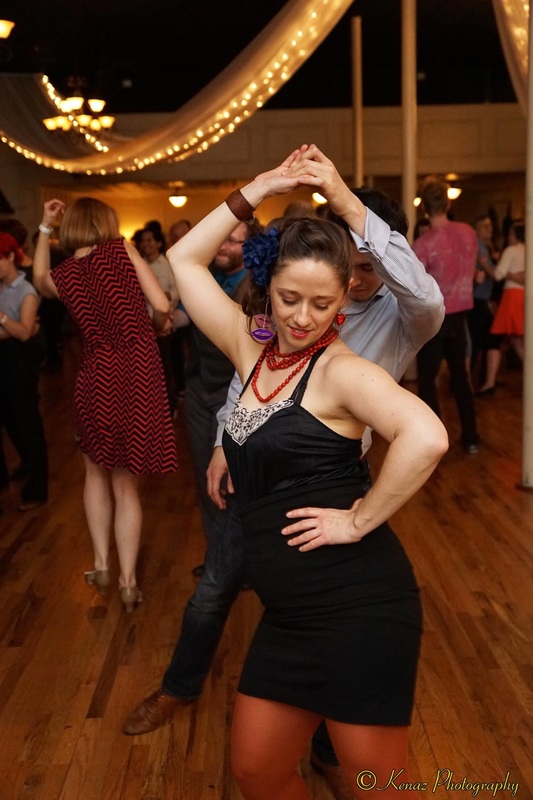 Jenny Sowden is an award winning, full-time, international dance instructor based in New York City where she is the managing director of Brooklyn Swings and nycBABBLE.com. Jenny has been training in dance for over twenty-five years and teaching for over twenty, with a BA in Dance and Theater from San Diego State University. She has studied 34 different styles of movement including Ballet, Tap, Hip Hop, West African, Capoeira, Aikido, Tango, Salsa, Lindy hop, Balboa, and Blues. Her background influences her teaching and general style through musicality, variety, expression and an understanding of body mechanics. Jenny believes the dance floor is a 'World of Yes,' where by constantly accepting and being inspired by what happens, creates an amazing place to be. We then take classes in a 'World of Intention' to expand our 'World of Yes.'
Annette hails from Heidelberg, Germany and is one of Europe's most prominent proselytisers of blues dance as a teacher, social dancer, DJ and organiser. Her love of teaching and dancing are infectious and if you've travelled for blues, you probably already knew that!
I passionately started partner dancing in Strasbourg by taking hours of weekly classes in Tango, Ballroom dancing, Lindy hop, Cuban Salsa. After meeting the Blues scene in 2011, I travelled all around Europe to social dance, train, meet Blues communities, compete. For the last four years, I have been teaching Blues locally (Paris, then Orléans), co-organized the Blues in Paris festival, and regularly taught in local and international workshops in Europe. Exploring movement alone or with a partner can be pure joy, I believe that dance technique & understanding of body mechanics are helping to get more freedom. I find beautiful that the genuine nature of Blues music facilitates people connection to themselves and the openness to others. What I like the most is guiding people to their inner joy and freedom of moving by finding the connection with the music and their movement, such as every single step become enjoyable as simple it can be.
Your workshop musicians
The one and only, once again is going to play for us for the late night on Friday. Hailing from Gothenburg, Sweden, but truly, we think he came right out of the Mississippi Delta, some 100 years ago. All of a sudden the crackling music that is lost behind bad recording techniques and vinyl comes to live, transcending time and space and expressing the universal emotions that we experience and move through in the Blues. Christoffer's music goes straight to the heart and soul, he captures his audience with his presence, charisma and the raw music he offers the world. If you don't know him yet, well, you are in for a treat!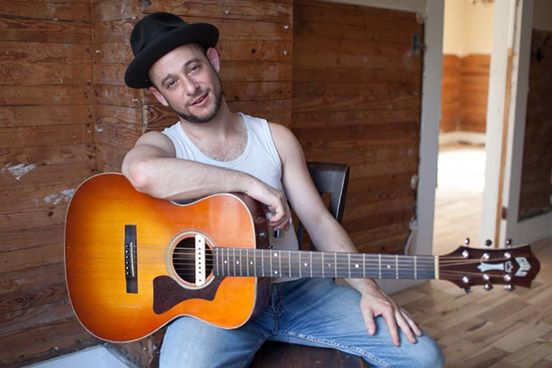 Dan's music harks back to the roots of early rent party/juke playing. His performances encompass the whole acoustic blues genre from the rough­edge bottleneck blues of the Mississippi Delta to the intricate finger­picking styles of Texas and the Carolinas. He focuses on rare and standard blues classics by bluesmen such as Robert Johnson, Muddy Waters, T­Bone Walker and Lightnin' Hopkins. Dan has performed extensively in the USA, both with contemporary blues players and as a solo act. Recently, Dan has developed a strong following among blues dancers seeking to re­create the juke­joint style experience of the 1920s­-1950s. He plays regularly for blues dancers in London.
He plays blues. He lives blues. And he inspires with blues. Pascal Geiser grew up with blues. He lives and embodies it. He thrills with his skill, authenticity and incredible charisma. He packs wonderful stories into songs that are sometimes soft and sometimes very fast-paced. Pascal writes his own songs and includes creations of his great role models (B. B. King, Buddy Guy, etc.) in his repertoire. In 2016 he wins the Swiss Blues Challenge and in 2017 he represents Switzerland at the International Blues Challenge in Memphis where he makes it to the quarter finals. The same year he wins 3rd place at the European Blues Challenge in Denmark. Everyone in Pascal's band is in a class of their own, but together they stand out and are worth more than just one concert visit.
Harmonica Player Jan Hartmann is back with his new formation Ballroom Baby. Virtually a Blossom Blues Veteran, Jan has already been performing four times at this festival with his previous band The Jays. It's fair to say, he knows how to inspire the passion of the Blossom Blues dancers. Therefore Ballroom Baby will again come up with a special Set tailored for the Blossom Blues Festival. Expect a big variety of Blues styles, stomping Boogie, sluggish Snare Rolls and dragging Shuffle. Four high-rated musicians are celebrating the diversity of Blues with lots of sensibility and skill while they are not afraid of enriching the material with their own unique sounds. The depth is touching, the expression is moving – it's your blues thing!
Menic's music is rooted in the musical traditions around the Northern Atlantic and the Deep Blues you find up and down the Mississippi. His songs put you into places that you've never been, but feel you've always known. He turns his story into fiction so you might remember your own, and shows the dark side of his heart so you might find some peace. He lets you forget your every day if it looks too bleak, and makes you feel at home, right there where you are, in front of the stage or at the bar. Menic grew up near Boston, Massachusettes and now lives in Switzerland.
Janos is a percussionist, composer and performer. He combines a deep knowledge of West African music and its connections to the dance with an extraordinary musical presence and sensibility. His talent and his passion are reflected in numerous projects: dance performances, theater, bands and musical formations… He is also a dedicated teacher of djembe and percussion for children and adults and gives classes in his hometown Berlin and in various other European cities. Drumming for us in Catherine's classes, Janos gives us the rhythm. If you have never experienced the power you get from the drums, don't miss out on this opportunity!